Update from The Great American Whistle Stop Book Tour

4/17/2022 – On The Missouri River Runner to St. Louis

Independence Whistle Stop – 8:40 AM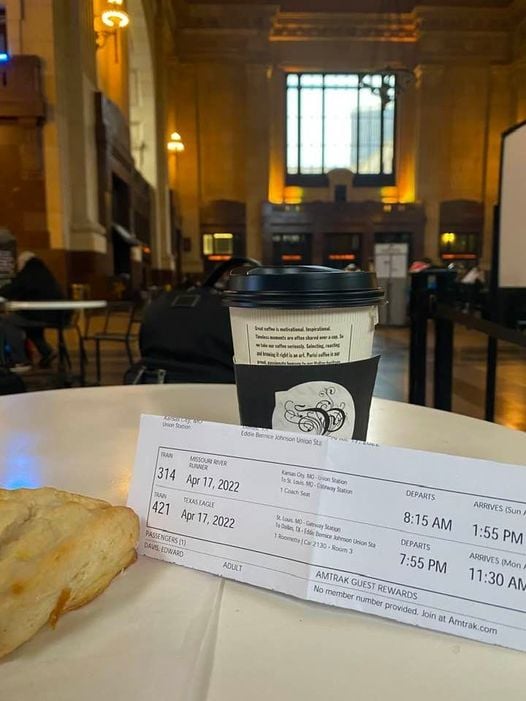 For the next six hours or so, I'll be making my way to St. Louis via The Missouri River Runner. This seems like a good opportunity to record, in real time, what a long train journey on Amtrak in 2022 looks like. For anyone who is on Facebook, you can see accompanying photos here.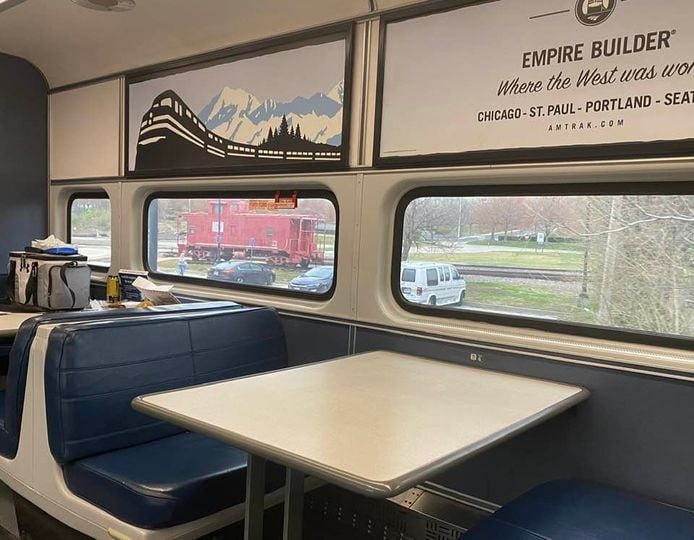 I'm set up in the club car, hanging with the crew. Nice tables, no crowd, and a steady parade of folks coming by to grab something to eat or drink at the snack bar. Unlike a plane, you can't help but get to know your fellow passengers, at least a little. A fellow just sat down at the next table. He is what the old hobos would call a "gasbag." In the ten minutes he's been here I've learned that he drove to California in his truck, sleeping in it at night because he was broke, but he's coming back rich. He says he has a few hundred K in the bank—and schemes to make more. As nearly as I can tell, diamonds, bit coin, and overpriced plywood all had a part to play. I'm not sure why he is riding in coach, and didn't dare ask for fear of winding him up again.
Lee's Summit Whistle Stop – 9:10 AM
My remaining family in Missouri lives near Lee's Summit—we drove by this station just the other day. Now I'm getting to see it from the train side of things. Lots of freight traffic passing here—all of them made up almost entirely of containers that can travel via ship, truck, or train. The days of the open boxcar, what hobos called "side-door Pullmans," are virtually gone. Now the only reasonably good ride is on the porch of a bulk grain car — a "grainer." I watch several pass by, looking for any sign of riders tucked in out of the wind, and mostly out of sight. I know where and how to look, but spot nary a one.
The country begins to open up as we head east. Gently rolling hills, tree-lined creeks. Farms and fields, county roads with numbers instead of names. Towns with red brick buildings on their block-long Main Streets, ball fields on their outskirts, church spires and grain silos, and place names that flash by before I can read them. So much of our country is exactly this —invisible when flown over, indelible when seen from the window of a train.
Warrensburg Whistle Stop – 10:02 AM
The train is filling as more people board for the short ride to Sedalia or Jefferson City — Jeff City, the locals call it — others going through to St. Louis as am I. The seats in coach are wide and comfortable, with footrests, pull-down tables, and places to plug in and charge your phone. Big luggage racks overhead, big windows . . . a much nicer ride than on a plane. There are no middle seats, but as the train fills up like this, most folks will be sitting next to someone. Also, unlike a plane, if you get a seatmate who is a bit too chatty, you can always and ride in the club car—where the views are even better, and refreshments close at hand.
Sedalia Whistle Stop – 10:42 AM
This is limestone quarry country — old, abandoned digs dotting the landscape like basements for buildings never begun. And it is big farm country, but not like California farms. Here you'll see a quarter section of well-tended fields with a well-tended American Foursquare home situated right in the middle. Water towers with town names painted proudly on shapely tanks loom over every small settlement, dominating the otherwise low skylines. Every few miles, concrete grain elevators cluster near the tracks.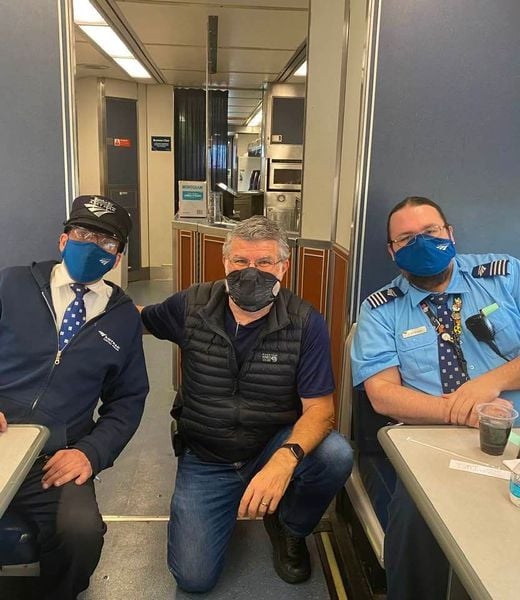 Here in the club car the crew, who have genially included me in their conversation, take friendly bets — no money changing hands — about the exact minute the train will come to a halt at the next stop. With the wildcard of the freights always adding an element of chance — we must stop to give them the right-of-way — the estimates are really just guesses. No one has hit it exactly so far . . . but we have a few hours to go to St. Louis, so there is still time.
Jefferson City Whistle Stop – 11:46 AM
The state capital, here on the banks of the Missouri, is sleepy beneath a light mist as we roll in. Much of the way here from Sedalia, roads — dirt, gravel, paved — have paralleled the tracks. On the two-lanes, billboards still advertise as they once did everywhere. Not enough to be a blight, they tout the services of lawyers, and real estate agents, and dentists who will restore your smile in no time. Cemeteries, with their shade trees and polished marble headstones, grace many a low hilltop. Poised above some of them, cell towers rise like misshapen candles stuck into the layer cake of the landscape. This is river country now, with sandbars and fishing shacks. Mark Twain country. Jim and Huck country. Our country.
Emergency Stop, Between Jeff City & Hermann– 12:23 PM
I've been on freight trains where engineers executed emergency stops that would throw me to the floor if I wasn't holding on. This was NOT that kind of stop, but the deceleration was rapid enough to get our attention.
The crew has reported a computer issue with one of the power units (engines). Some resulting safety signal confusion—never to be taken lightly—has caused the delay. They are also walking the entire exterior of the train to make sure that the rapid stop hasn't created any other problems.
All bets as to our arrival at the next station are now null and void.
In interviews I have sometimes referred to hobos as America's original Zen Masters, because you cannot ride freight trains without both patience and a heightened sense of equanimity.
The same is true with passenger trains.
And just like that, after only ten minutes, we are rolling again.
Hermann Whistle Stop – 12:45 PM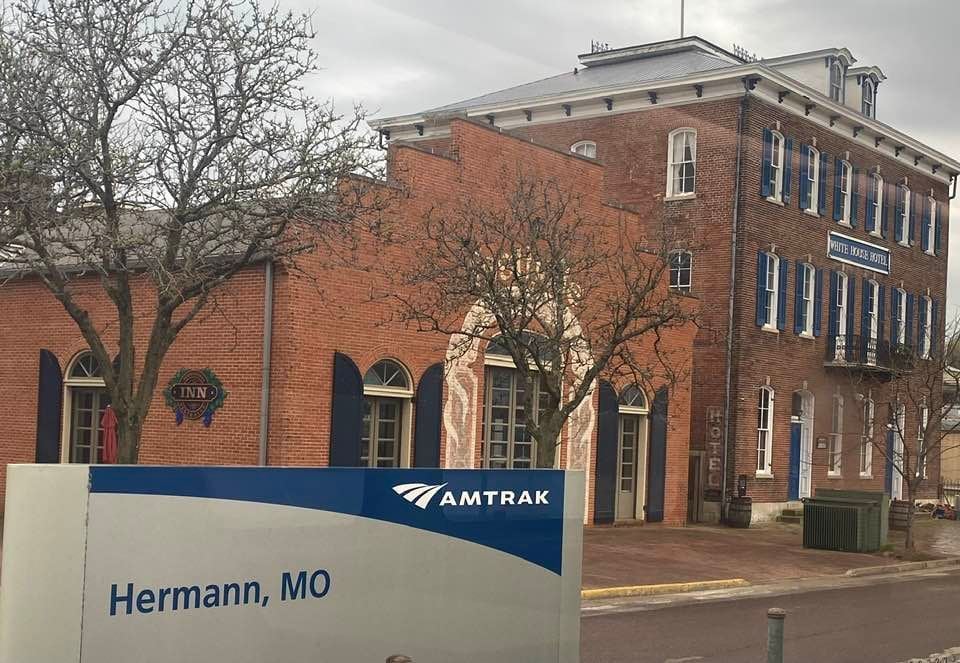 Described as "A picture-book village where 19th century brick buildings hug the sidewalk," everything I can see from the train seams to bear that out. With the river on one side of the tracks, and the quaint downtown on the other, Hermann is instantly appealing. One of the delights of train travel is that, for a few moments, a passenger (whether in a boxcar or a club car) gets to "try on" a place. What would it be like to stop over here for a few hours, or a few days? What would it have been like to grow up here? What is its history? What is its future? What if our paths ran parallel for a bit?
Then the train begins to move again, the "what if's" are left behind, and our attention turns to the "what is" right outside the window or the boxcar door, and the "what's next" up around the bend.
Washington Whistle Stop – 1:20 PM
Another picturesque river town—this one just an hour from St. Louis. Amazing how quickly the time goes with so much to look at and take in. History, and nature, and everyday life all around. Trains go everywhere, and strange as it may seem given their size and physical presence, they become so commonplace for the folks who live along the right-of-way that these massive machines go virtually unnoticed. Whether you are rolling past a factory or a feedlot, skirting a backyard or slicing through the very heart of a city, from a train you see people simply living their lives without pretense. For this writer, the effect is absolutely captivating.
Kirkwood Whistle Stop – 2:21 PM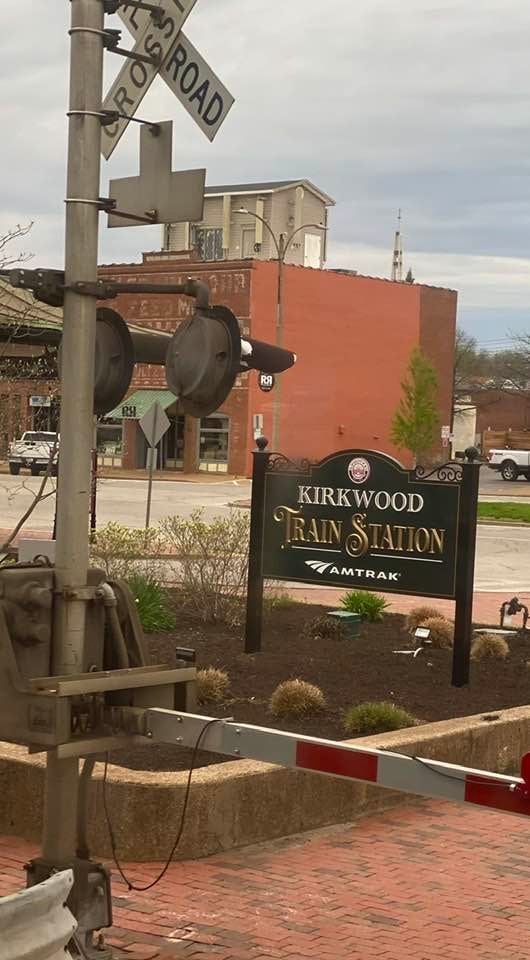 At one point, most towns in America had a train station not much different than this one. Though many were smaller, and some larger, at the height of the railroad era all were central to the growth and vitality of their communities. I have heard it estimated that ninety percent of our population once lived within five miles of a train track. Railroads were almost as ubiquitous as the Internet is today. Don't believe it? Check out this map of abandoned rail lines. Yes, the blue lines are railroads in memory only.
St. Louis Station Stop – 3:00 PM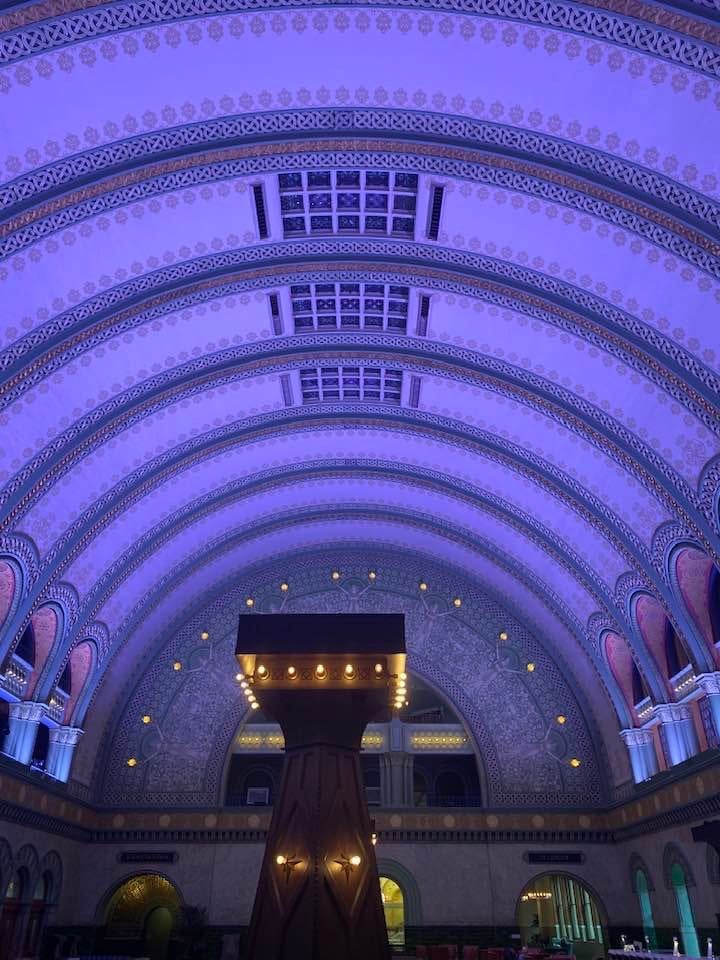 The Missouri River Runner terminates here. I had hoped that it would stop at the magnificent old St. Louis Union Station, and was worried when I walked into what looks like a 1960's bus depot that perhaps the old station had not survived. Fortunately, Union Station HAS been preserved, and is now the hub of a whole complex of attractions; an aquarium, a ropes course, a carousel, and a spectacular light show in the grand hall. Do I miss the sense of having arrived that one gets when detraining in Denver or Kansas City? Sure. But I am thrilled that they have saved this beautiful old building. I'll be passing another couple of hours here — sipping Earl Grey from the coffee shop, and watching their modest model train display cycle through its paces — before hiking the mile back to the Amtrak station for my night train to Dallas. I've got a roomette for that ride, and I'm already looking forward to the rails rocking me to sleep.