#TBT Sharing another previously unreleased journal entry below from my Great American Whistle Stop Book Tour. Enjoy!

4/26/2022 – Albuquerque, NM

The country I passed through three days ago, coming here to Las Cruces, was all arroyos and vistas and sand and sagebrush, painted with the uniquely southwestern pallet that helps make this landscape both beautiful and baffling. You can't help but wonder how people live in all this magnificent open space—so far from one another—let alone how they thrive?

Yet thrive is exactly what they were doing in Las Cruces. All the streets in the center of town were closed off for a market day fair, and COAS Books, where I was signing, was right in the heart of it. Music, food, crafts, and a constant flow of folks as willing to chat with me about my novel as I was eager to share it with them. In the publishing trade this is called handselling; one person inviting another into the world that exists between the covers of a book.

I heard their stories, they heard mine. One fellow, probably in his late twenties, shared that he had just taken up reading for pleasure, and had only ever finished one novel in his life. He purchased The Last Professional, fully intending to make it his second. A young woman purchased one for her grandfather, who had worked for the railroad. A grandmother, with two granddaughters in tow, stopped, introduced me to the girls as Mr. Davis, and explained to them in detail exactly what an author does. I was honored to be her example.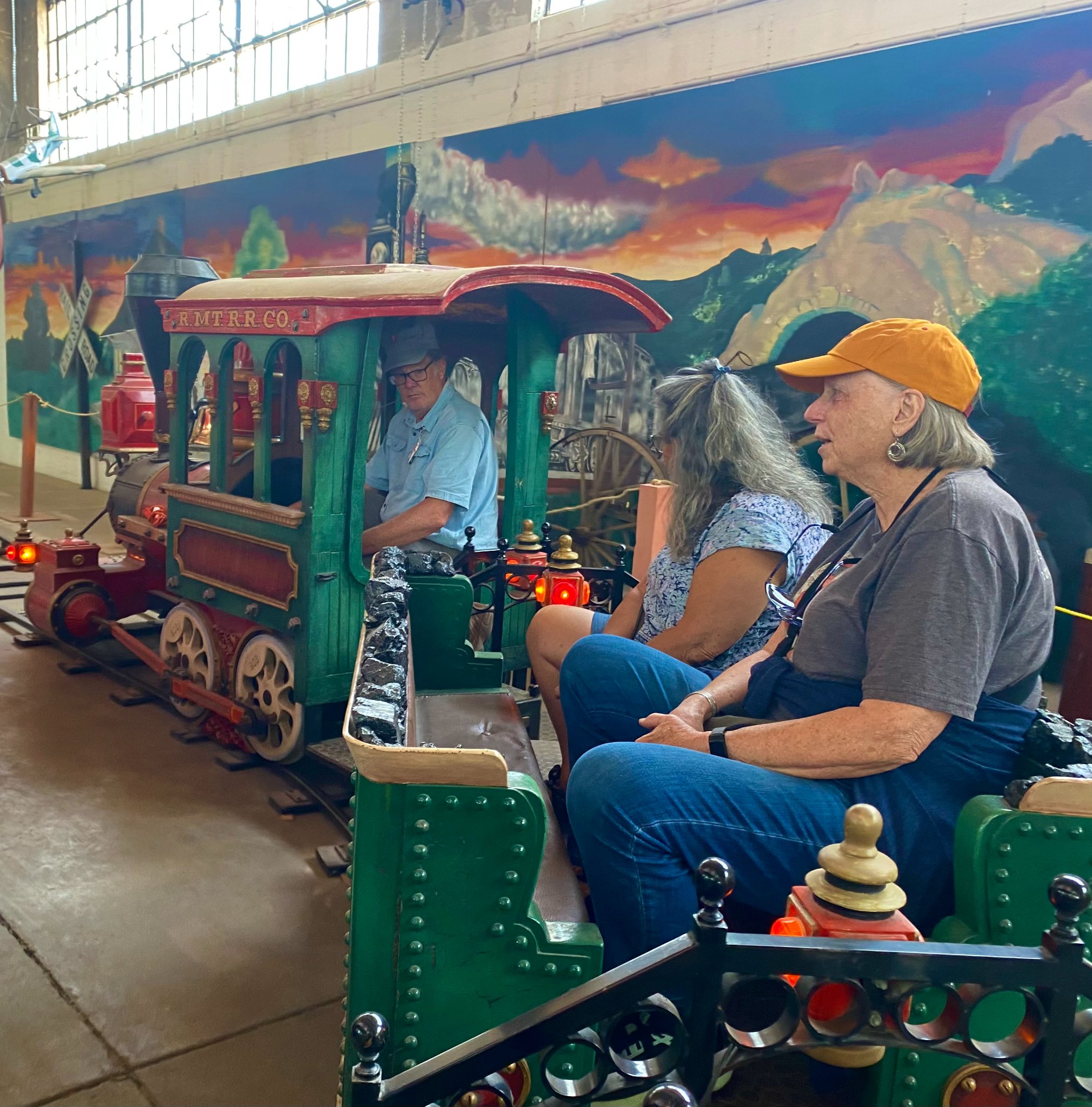 When I reached Albuquerque, Jan, in the company of our friend Susan, was here waiting. So far on this tour I've traveled with a whole crew of friends on the first leg to Reno, with Jan from there to Denver, with my brother, Jack, from Denver to Kansas City — and by myself from Kansas City to Albuquerque. That last stretch was eight days alone. One's perspective can't help but change based upon the people you are or aren't with. That is one of the wonderful rewards of travel. Long solo stretches are intimate and personal—it is just you and the unfurling adventure. When there are two or more sharing the road, the experience often becomes greater than the sum of its parts. The Great American Whistle Stop tour started not quite a month ago. The tour of my life with Jan started not quite half-a-century ago. I am thrilled to be finishing this one the same way I started that one—with Jan by my side.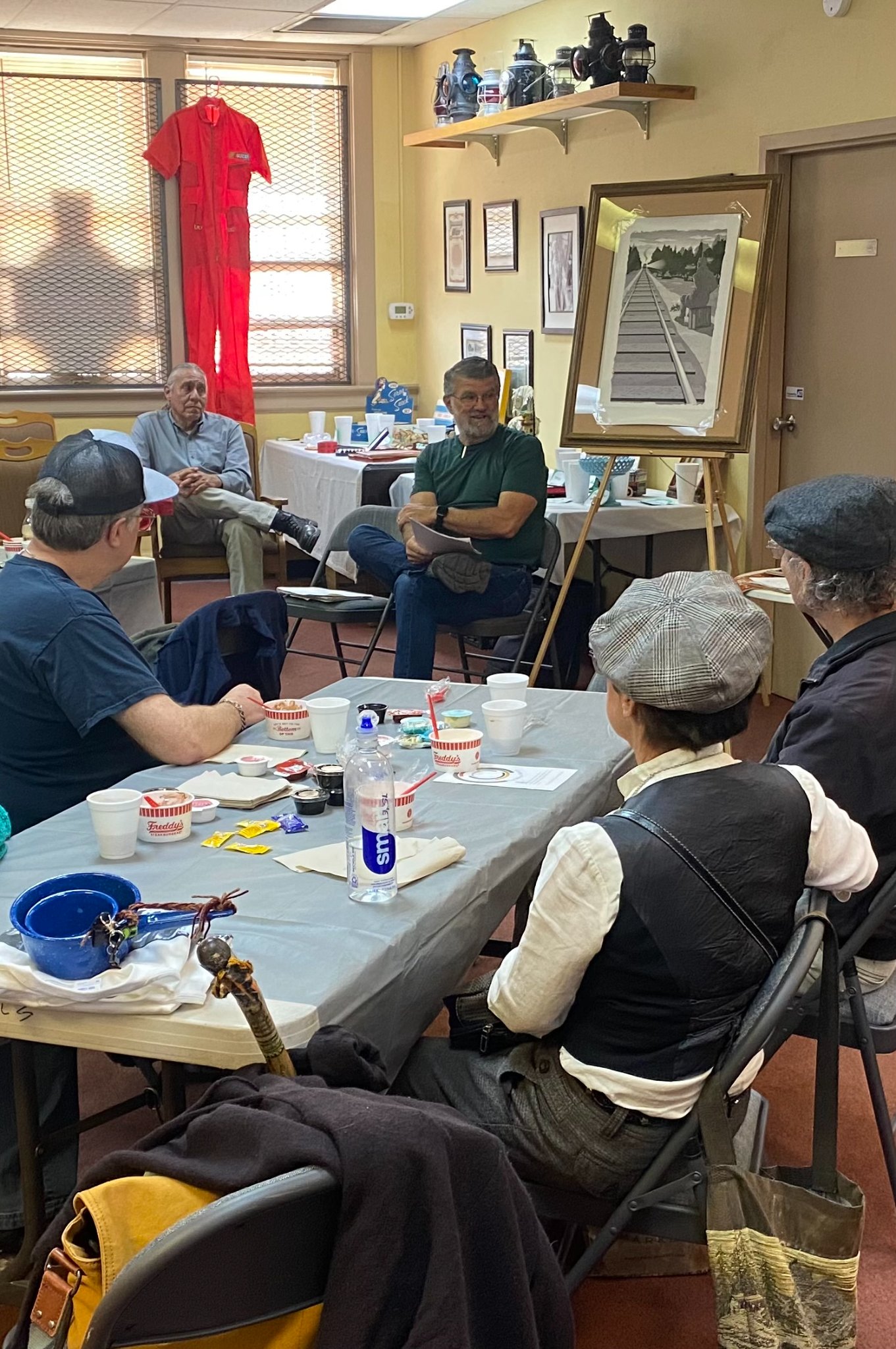 On Sunday we had what was unquestionably the most remarkable event of the tour. The Wheels Museum, here in Albuquerque, is a labor of love nurtured by the extraordinary Leba Freed and the intrepid crew of volunteers who created it and keep making it better. Located in the Albuquerque freight yards, which Leba helped to save, these folks are devoted to collecting and preserving anything that moves on wheels. I could have spent days there. The day we did spend was divided between a catered hobo meal (hot dogs, chili, cornbread), the showing of Beggars of Life, a great silent movie based on a hobo autobiography by Jim Tully, and a lively discussion of hobo history that it was my privilege to participate in. If you are ever in Albuquerque you owe yourself a trip to The Wheels Museum.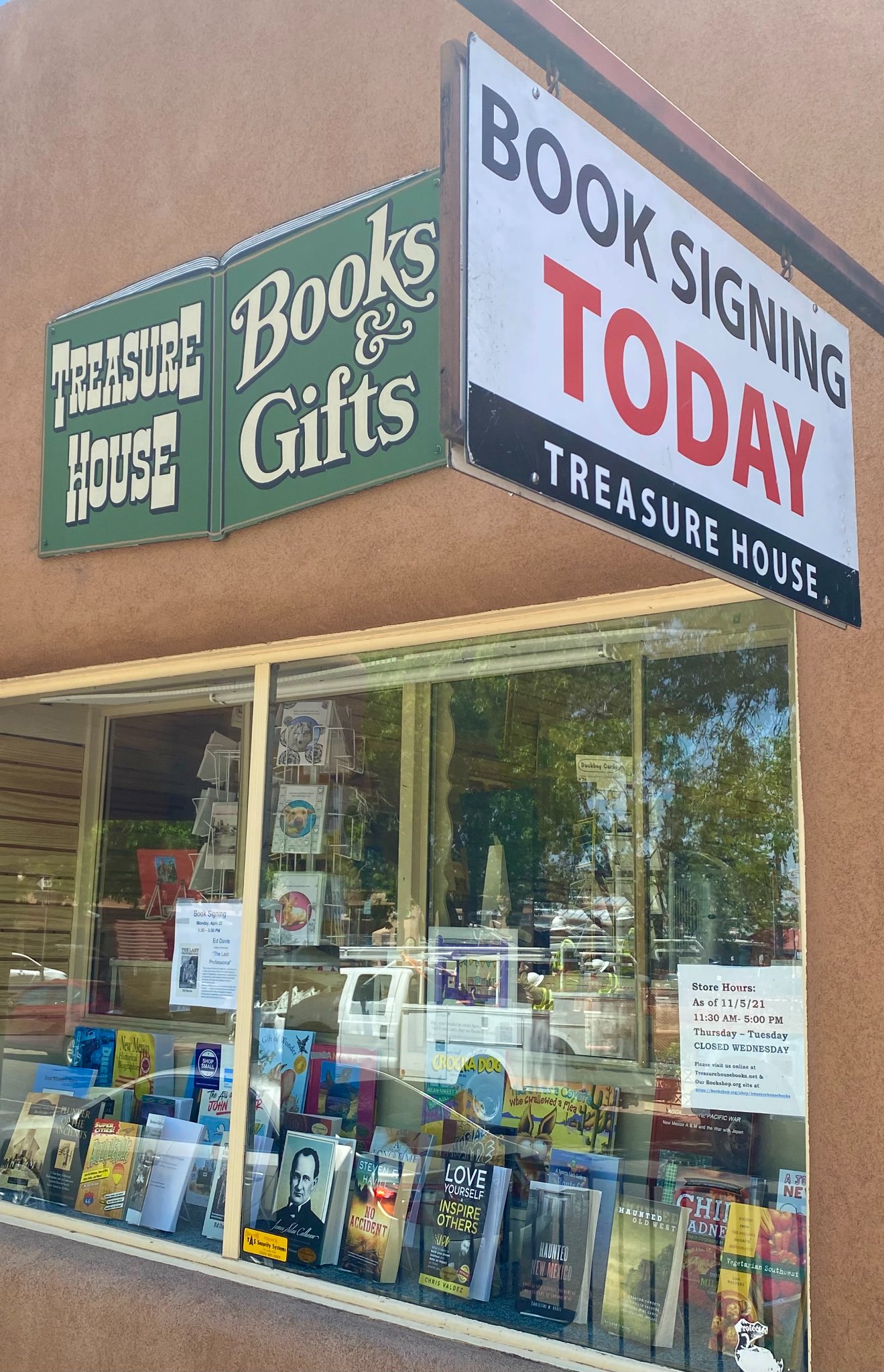 Monday afternoon I got to spend several very enjoyable hours with one of Albuquerque's best known and best loved booksellers, John Hoffsis of Treasure House Books. John's store is located right on the plaza in Old Town. He loves books about the Southwest, he loves trains, and John is, himself, a treasure. Between swapping stories with John and chatting with a steady stream of his loyal customers I was pleased to sell and sign a dozen copies of The Last Professional. At the end of the day John gleefully announced that I now hold his store's single-title sales record for a Monday—an honor that I will cherish. By way of comparison, the day before Anne Hillerman, a good friend of John's, was signing her latest book. She sold fifty copies. "But hey, that was on a Sunday," John said, and he winked at me as he said it.
And last night, after working with him for almost two years, I finally had a chance to actually meet, in-person, Geoff Habiger, my publisher at Artemesia. Over an excellent Southwestern meal, we shared our personal stories about how we had managed to arrive at this unlikely but fortuitous juncture. That Geoff was willing to take a chance on The Last Professional, and on me, was a rare act of courage and faith in an industry where both are in short supply. For that, and for his support at every stage of this project, he will forever have my gratitude.