Whistle Stop Book Tour Journal Entry
4/16/2022 – Kansas City, Central Library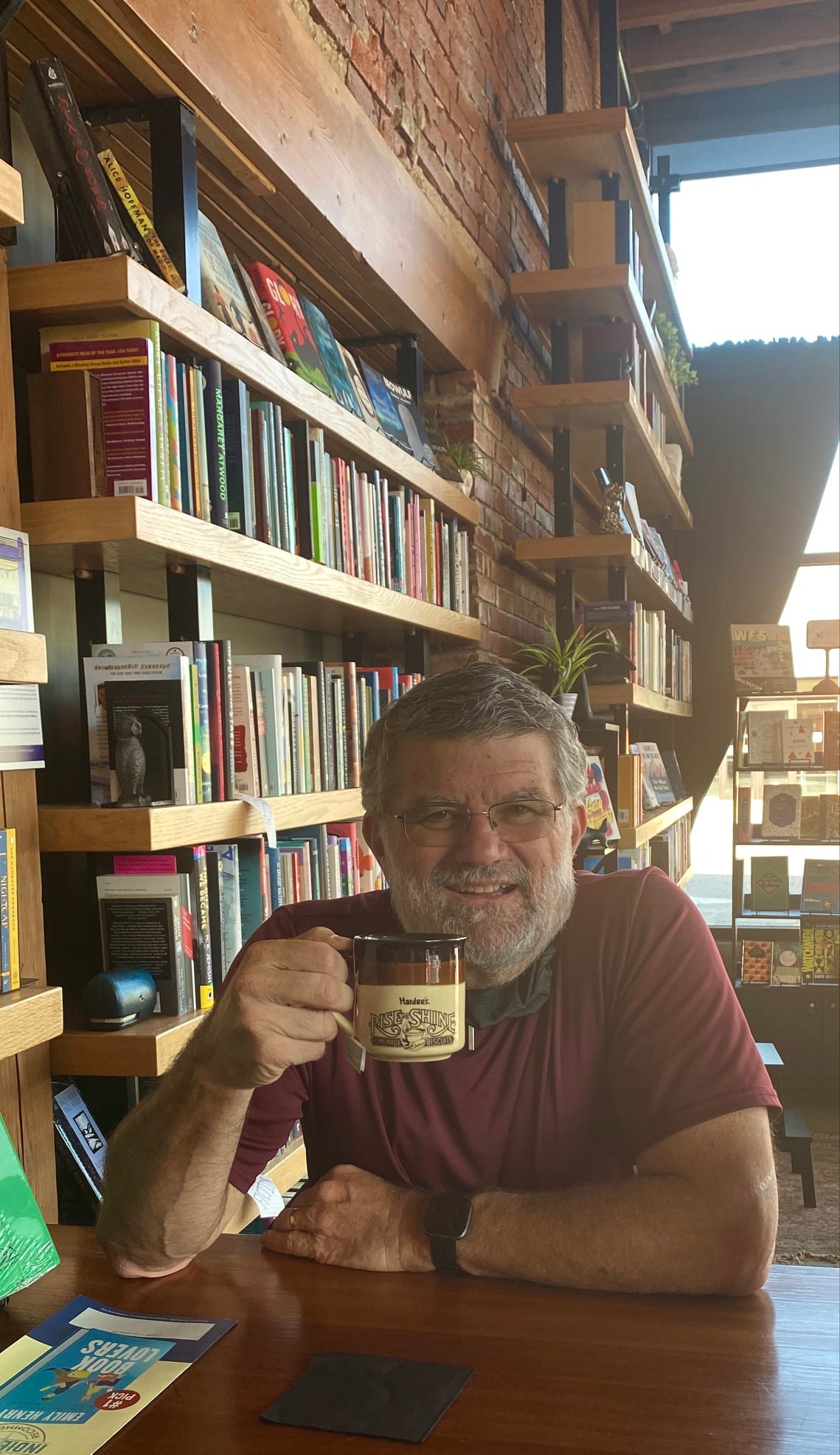 Early this afternoon I'll be heading down to The Afterword Tavern & Shelves on Grand, for a casual discussion of books and travel with Alex Greenwood. I met Alex "virtually" when he interviewed me for his Mysterious Goings On podcast back in February. We hit it off immediately, and here, all these months later, it will be a treat to actually meet him in-person. I dropped into The Afterword yesterday, for a cup of tea and a look-around. Booklovers in every city should have such a place to call their own. Soft music, books everywhere, a welcoming atmosphere, and plenty of liquid refreshment at the ready. A perfect environment in which to while away a few hours.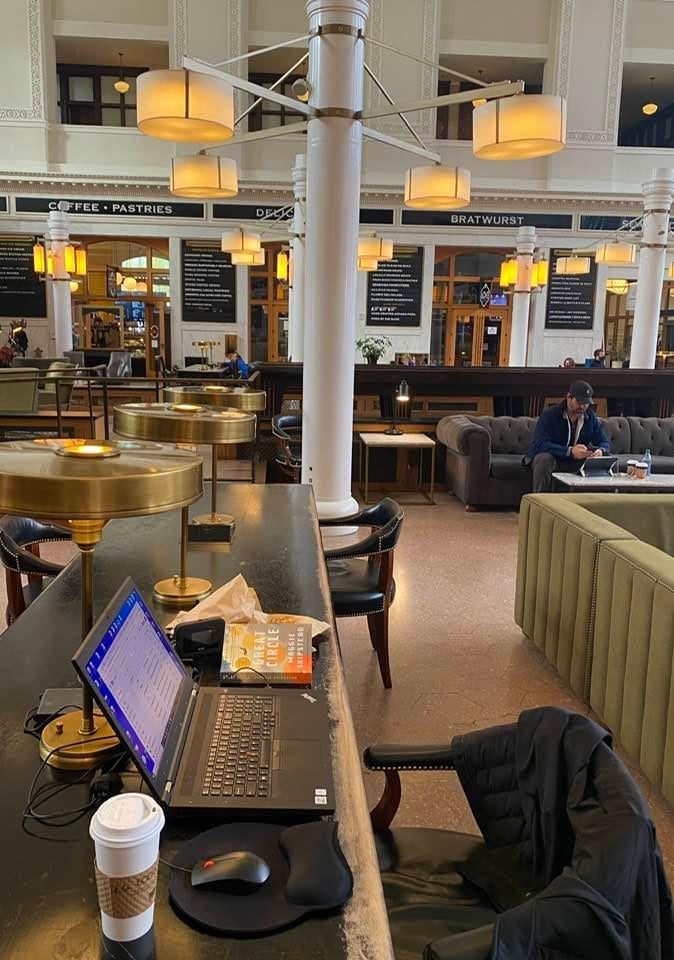 This leg of the journey, from Denver to Kansas City — via Galesburg & Lawrence — has felt like a homecoming. Is it possible to have a homecoming to a place you left when you were only four, and have only visited a few times since? It seems that it is. When my brother Jack and I left here I was not quite five years old, he was not quite eleven — both of us saved from our duplicitous, philandering father by our mother who left everything she knew to give us a chance at a future away from his lies. Jack joined me in Denver last Sunday for our night train ride to Galesburg. He is seventy-five, I'm sixty-nine. Sixty-five years had passed, yet we were still just two brothers hitting the road—not a journey of escape this time, but one of return.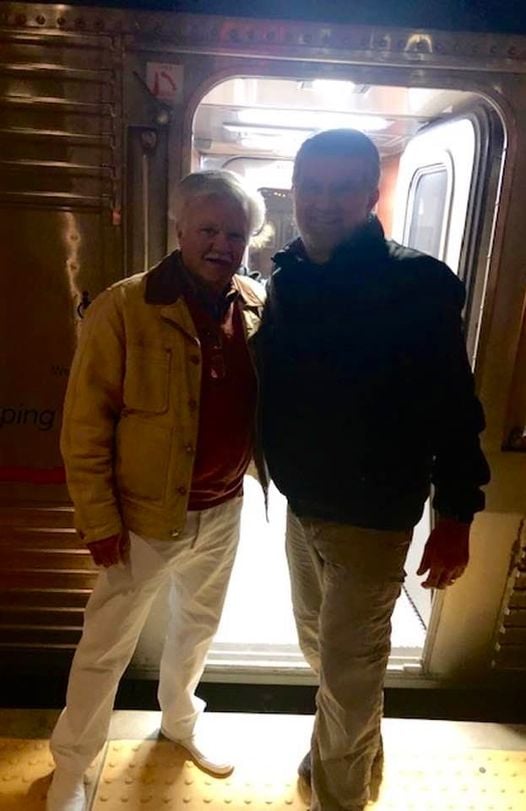 Jack and I never hopped freights together. Though he wanted to, the timing didn't work out. Sharing this train ride through whistle-stops with place names that read like American roadmap poetry —- McCook, Holdrege, Hastings, Lincoln, Omaha, Creston, Osceola, Ottumwa — is as close as we will get. That's fine. The essence of the experience is here. Whether seen from the cars of a high-ball freight, or the cushions of a streamliner, there is nothing like experiencing this country from a train.
In Galesburg, though Jack had never been, and I'd only ridden through a few times—usually in a boxcar in the dead of night—we received what felt like a homecoming from the moment we arrived. Teri, and her family and crew at Wordsmith Bookshoppe rolled out the red carpet for us. More than a hundred freight trains a day pass through Galesburg — this is a town with railroading in its blood — so we drew a large and very appreciative crowd. I shared some passages from my book, a bit of my personal history, and that Jack and I had rolled in on Amtrak just a few hours before. They shared the stories of their lives. When the event was winding down and folks were beginning to leave, many of them reluctantly, one couple, probably in their eighties, approached and told me their stories in detail. He had worked his whole career for the railroad, and she had fed hobos at her back door. Then the woman took me by the hand and said, "Ed, next time you boys come through town, you're staying with us."
At The Raven Bookstore in Lawrence, I signed copies and compared notes with folks who, unlike Jack and I, had lived their whole lives in the region of our birth. How were our backgrounds the same? How were they different? What had we missed? What would we not want to give up about where we were raised? Do they appreciate the prairies in the same way that I value Northern California's fertile valleys and Jack connects with Virginia's Blue Ridge Mountains? Of course they do. We treasure our homes not because of their location on a map, but because of the place they occupy in our hearts. As Jack and I strolled Lawrence's Historic Downtown later that evening, appreciating the storefronts, exchanging pleasantries with others who were doing the same, I could see how, had we grown up there, it would be an easy place to belong to, an easy place love.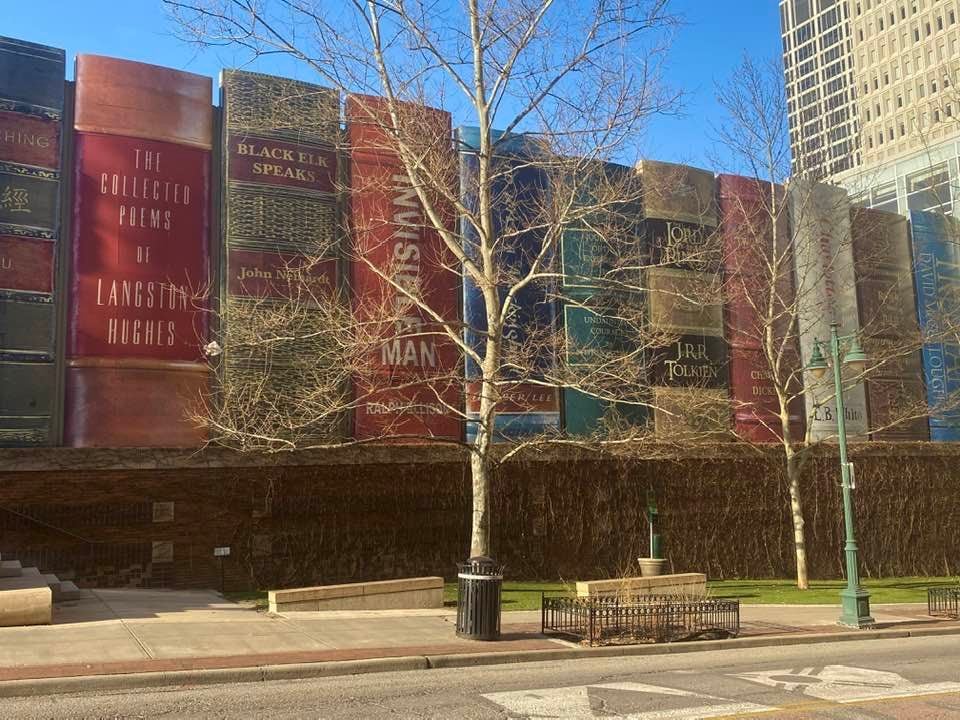 And here in Kansas City we were able to connect with our few remaining relatives who live in these parts. Out first-cousin-once-removed, Jeff Shrout, bought us a cup of coffee and gave us a tour of the Inner City Church where he is assistant pastor. It is exactly the kind of place that would welcome the characters in my novel — and welcomed me in my freight hopping days — no questions asked. Jeff's dad, Marion, and Jeff's brother Greg, drove us around to the places our parents grew up — Independence, Blue Springs, Lake Tapawingo — and Marion, who is in his mid-eighties, shared stories about our father's misbehavior and mother's forbearance that we had never heard. Ruthie, Marion's wife, welcomed us into her home, not like relatives she's only see a handful of times in the last fifty years, but as if we were regular Sunday supper guests who lived just down the street.
I have the greatest respect for Thomas Wolfe, who wrote You Can't Go Home Again.
But Tom never met our family here in Missouri.