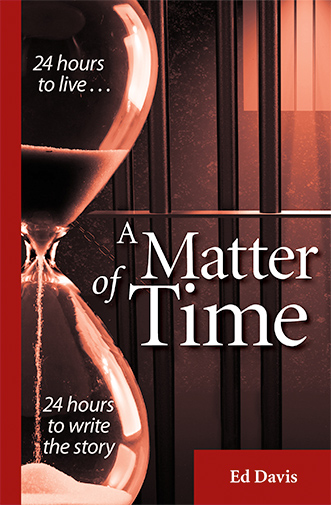 24 hours to live
24 hours to write the story
Get ready for a one-of-a-kind reading experience!
You are right there for the hero's last 24 hours on death row, and right there with the author as he races to write this breakneck thriller in just 24 hours!
On Friday morning, November 29th, 2002, at 5AM, I sat down at my computer, intent on writing a 50,000 word novel in just 24 hours. In the aftermath of 911 our country was swinging dangerously toward authoritarianism. As a response, I wrote a cautionary tale of how badly things might go; never dreaming that 16 years later much of what I predicted would seem eerily familiar. You can watch the time-lapse video of my effort
here
, and download the full novella (it came in at just under 30,000 words) for free by clicking
here
. It is a quick read and a wild ride. I hope you will join me!
★★★★★

based on

9

reviews
Overall rating:
A Matter of Time"
★★★★★
"
"A Matter of Time" by Ed Davis draws the reader in quickly. I found it well-written, thoughtful and impossible to put down.
"
Matter of Time
★★★★★
"
V clever. Well written with twists that held me
"
The Story It Tells Is Brilliant!
★★★★★
"
Oh wow! I wasn't sure what to expect with this book. The premise of writing a novel in just twenty-four hours was intriguing, and for a short while, I didn't know where this book was heading. But the story it tells is brilliant. A group of men making their small town into a haven from a not-so-pleasant (or far-fetched) future in the United States shows how easily life can be improved for everyone in small ways. The messages are clear, and the writing brings everything to the fore so simply, as if it's all just common sense. Which it is. The big question through most of the novel, though, is what happened to put Ed Davis on Death Row? The answer is a political nightmare, and one we have to strive to avoid. I'm not American, but I fully relate to all the problems the SOGs faced in their small town of Elgin, and I just love their pragmatic approach to civic leadership. Without giving away any spoilers, the ending of the book is unexpected, but so right. This book is well worth the read.
"
A matter of Time
★★★★★
"
I couldn't put it down...this could be a movie...a screenplay....wonderful flow and vivid imagerie....I really liked it.
"
Really cool idea and still so relevant
★★★★★
"
I could not imagine writing 30,000 words in just 24 -hours... and then them turning out to be this good. Connecting the idea of writing a book in 24 hours to someone living out their last day on Earth was so creative. It's so hard to imagine what it would be like on Death Row, so I feel like the nature of A Matter of Time gives you that fast-paced/real-time experience of counting down to the last second. And even though the book was written in 2002, there is some relevancy now in 2018 that makes a not relatable protagonist relatable. It's a quick read, highly recommend for thriller lovers, political junkies, and creative writers looking for their next writing challenge.
"
Great Stuff
★★★★★
"
Really enjoyed this, succinctly written and a real page turner. I was on the edge of my seat the whole time.
"
A Matter of Time
★★★★★
"
Ed Davis took me on the most exciting adventure I ever experienced reading a book! A Matter of Time is an incredible, fast-paced novel giving readers insight into a man's last hours to live. I love how the book is a quick read, but it delivers a fun and timely tale of demise. The 24-hour structure gives the book another level of intensity and sophistication not frequently seen in fiction. The themes in the novel complement the current political climate so perfectly it almost makes Davis seem like a prescient storyteller. I highly recommend A Matter of Time!
"
Such a cool concept!
★★★★★
"
This one was hard to put down. The fast pace makes it easy to get lost in the story and I couldn't wait to get to the end and know what happens! It's cool to read something written in 2002 that's so relevant today in 2018.
"
This is cool!
★★★★★
"
This story is a real rush, in a good way. Something about the hour-per-chapter concept really drives it, not to mention the content. A guy counting down the last 24 hours until his execution, at the hands of a government that looks way too damn familiar. The fact that Davis pulled this off in a single day . . . that's awesome.
"
Write your own revew here.